RMA officially opens the site in Russia!
In the midst of the diplomatic crisis between Germany and Russia, RMA – a family-run medium-sized company headquartered in Ortenau, opened a new production site in Russia. The RMA subsidiary, OOO RMA Rus, is located in the Special Economic Zone Alabuga, in the autonomous Republic of Tatarstan, approximately 1000 km east of Moscow. The many high-ranking guests at the opening on 14.05.2014 included the President of the Republic of Tatarstan and representatives of the German Embassy in Moscow.
You can find information in Russian-language media on Tatarstan's homepage http://tatarstan.ru/index.htm/news/300531.htm and an interview that was broadcast on Rossija 24: http://www.vesti.ru/videos?vid=598774.
EUR 25 million was invested in the new production site in Russia, where a team of 35 highly qualified staff is currently manufacturing the order for the South Stream project received at the beginning of the year.
RMA Rus will produce ball valves for gas pipes up to DN700 for the market in Russia and the former CIS countries. There are plans for a second and third expansion phase where ball valves are to be produced up to DN1400.
Erecting a complete production plant in the space of 13 months would not have been possible without the good support provided by the local authorities. Another important part of the success is down to the highly motivated and committed staff on the ground and in Germany, without them this project would not have been possible.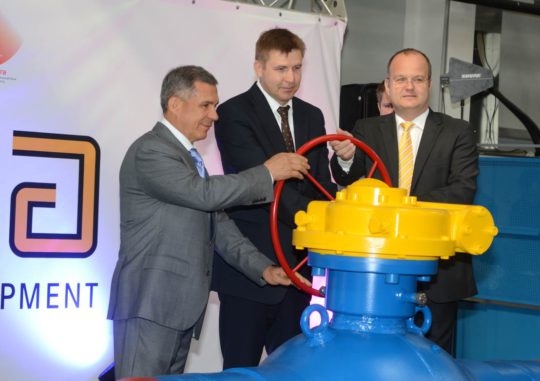 OOO RMA Rus opening ceremony
Starting from the left:
Rustam Minnichanow (President of the Republic of Tatarstan), Tretjakov Vadim Valerjewitsch (Director General of all Special Economic Zones in Russia – "OAO SWZ"), Andreas Truttenbach (Managing Director of RMA)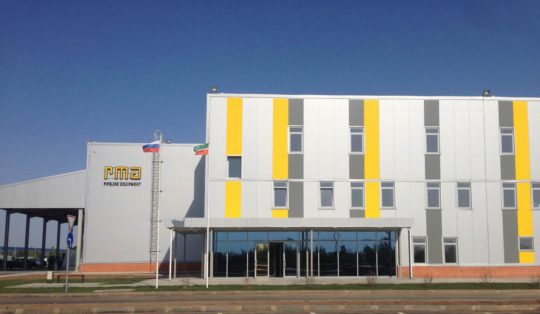 OOO RMA Rus's new production plant in the SEZ Alabuga